Courage
Joan of Arc
St. Joan of Arc's (1412-1431) extraordinary acts of courage in her short life of just 19 years earn her status as a cultural icon, symbolic with the word "Courage" and the national heroine of France. Her life is well documented in history and often eulogized by artists. Divinely inspired, she experienced repeated visions of St. Michael and other saints, commanding her to deliver her country from English control and to secure the throne for Charles VII and France. She played a major yet mysterious role in battle, never using arms, and while wounded she miraculously recovered. With banner in hand honoring both Jesus and Mary and signifying her divine inspiration, she led troops to victory earning her peasant family a striking coat of arms signifying her ascent into nobility and beautifully illustrated on the back of the Sanctus Collection medal.
She anticipated her capture and was tried by a mock ecclesiastical court, which convicted her of heresy and burned her at the stake, yet later she was retried and acquitted. Her name means "God is gracious".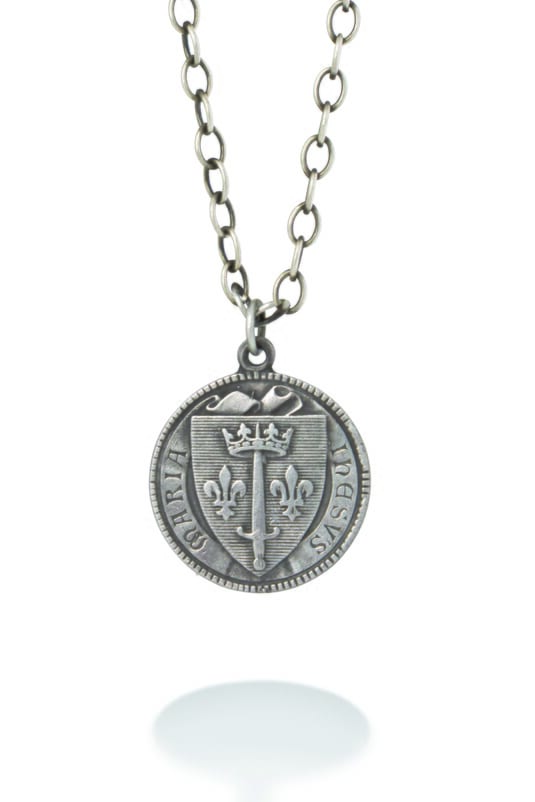 Description:
Hand finished sterling silver virtue medallion measuring 1 1/8" diameter. Available in all sterling silver or all 14 karat gold. Saint Joan of Arch with diamond is also available in two-toned all sterling silver with a 14 karat gold bezel or all 14 karat gold.
Additional Information:
| | |
| --- | --- |
| Collection: | Sanctus |
| Virtue: | Courage |
| Patronage: | Soldiers and Feminists |
| Feast Day: | May 30 |
| Social Cause: | Veterans |