Charisma
St. Teresa of Avila
A Spanish mystic and one of two women elevated to Doctor of the Church, St. Teresa of Avila (1515-82), as an activist and mystic visionary, illuminates the importance of contemplative practice in becoming one with God for the purpose of actively loving others. The Interior Castle, her sentinel discussion on this journey imagines the soul as a crystal palace with God dwelling in the center and where other rooms serve as the process for self knowledge, discernment, surrender, clarity and eventually love. She emphasizes the importance of contemplative practice as the way to find union with God which fuels service to others, loving others in tangible ways. Prayer cultivates virtue. She is the patron saint of Spain.

We celebrate her grace with an oval image of her ecstatic experience of setting her aflame with divine flame through the hand of an angel.

This magnificent refuge is inside you. Enter. Shatter the darkness that shrouds the doorway. Be bold. Be humble. Put away the incense and forget the incarnations they taught you. Ask no permission from the authorities. Close your eyes and follow your breath to the still place that leads to the invisible path that leads you home. - St Teresa
Front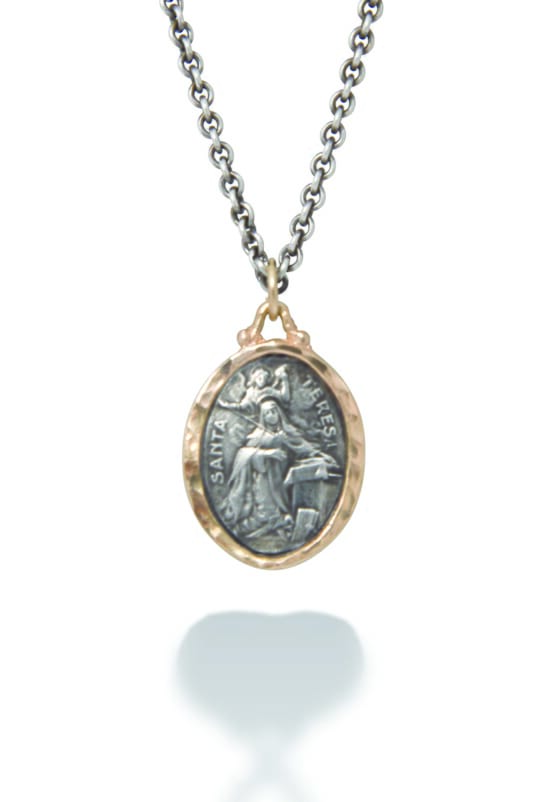 Back
Description:
Sterling silver medallion framed in 14K yellow gold .75" X 1".
Additional Information:
| | |
| --- | --- |
| Collection: | Sanctus |
| Virtue: | Charisma |
| Patronage: | Spain |
| Feast Day: | October 15 |
| Social Cause: | General Causes |